Software for the static calculation of propulsion pipes and tunneling pipes according to ATV / DWA-A 161
With this technical program, the calculation of propulsion pipes can be carried out according to the ATV-A 161 (January 1990) or the DVGW Merkblatt GW 312.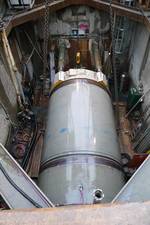 This program applies to the static calculation of pipes with a circular cross-section, which are installed according to the pipe conveying method with straight lines in non-binding or cohesive loader floors with static force according to DVGW-Merkblatt GW 304 resp. ATV / DWA-Arbeitsblatt ATV-A 125
The program offers the possibility to optimize pressurized and unpressurized pipes with regard to the length of the sling, laying conditions, the material and the thickness of the wall, so that a high pipe and laying costs can be saved.
In addition to the materials listed in GW 312 and ATV 161, plastics pipes were included in these calculation programs.
The material characteristics of ATV-A 127 were taken into account.
The calculation approaches and material values ​​refer to propellant, concrete, asbestos, steel, stoneware, cast iron, PE-HD, PVC and UP-GF propellant pipes.
If further material values ​​are to be stored, please contact us.